Create a workplace where everyone belongs.
Joshin is designed to help your whole team thrive. From providing care and guidance to individuals and families with disabilities to educating teams about disability inclusion, we help create a workplace where everyone feels safe and included.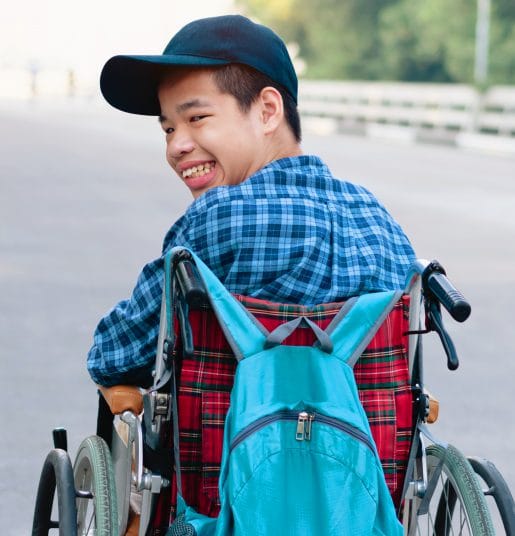 Over 112 million Americans are disabled or neurodivergent.
When it comes to the support needed to live a healthy and happy life, there is no one-size-fits-all solution. At some point in every employee's life, they will require care and wellbeing tailored to their unique needs. Whether it's for themselves, a child with a disability, or an aging parent, your employees deserve an inclusive care and wellbeing benefit that can flex to fit their life.
---
30%
of employees have a disability or are connected to a loved one with a disability.
62%
of employees with a disability have an invisible disability.
100%
of employees could become disabled at any point in their lives.
A care benefit for every age, disability, and need.
Expert Support
Our Care Advocates know the ins and outs of the care system and are available to offer direct support to your employees, ensuring they get the most from our services.
Care Management Tools
Access your digital Care Binder, post a job, interview providers, send unlimited messages, schedule, and pay – all from an easy-to-use web and mobile app.
Direct Access
Whether early morning or late night, employees have direct access to screened disability caregivers, specialists, and experts.
Experienced Providers
Every Joshin caregiver and specialist has at least six months of disability experience and passes an extensive safety check.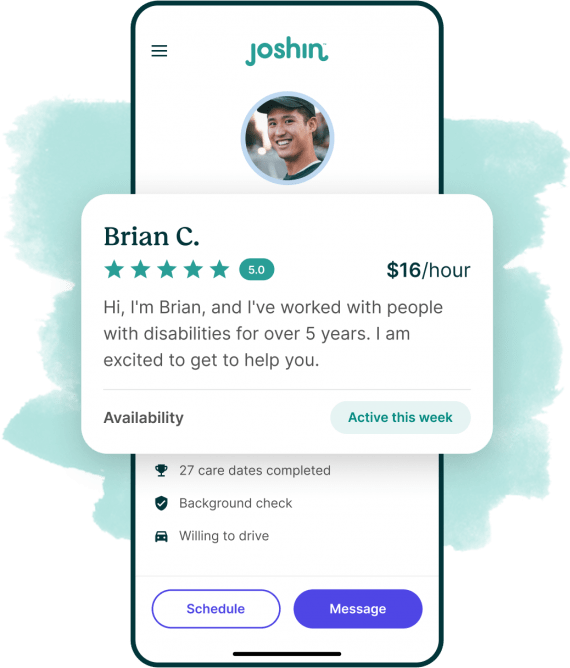 Care that benefits your company, too.
Reduce Absenteeism
Access to resources and care providers means less time spent away from work managing caregiving responsibilities.
Improve Productivity
When you provide inclusive benefits, you're giving every employee equal opportunity for success in the workplace.
Get Powerful Data
Knowing your employees' needs helps you make smarter and stronger decisions on what to offer them.
It's been amazing help for my family! Our son has Down syndrome and autism, and it's been very challenging to find the right caregivers. With Joshin, we've connected with 3 incredible caregivers. I can't say enough about the quality of the caregivers and how easy scheduling & payment is through the app.
Marketing Manager, Minneapolis
Our employees' well-being comes first. If we don't take care of them, they can't care for our company. It's nice to know we can take some of the stress away by providing them with the support and resources they need to manage disability care. Adding Joshin to our care benefits was a great decision not only for our company but for our employees and their families.
Corporate Partner, Seattle
My son is 16 and has Cerebral palsy. When he turned 13, we no longer qualified for care reimbursement. Since my company added Joshin as a benefit, I can hire qualified caregivers for my teenage son and get reimbursed, saving me time and money. There's been an unmet need for tailored care for a long time. It was just invisible. I love that Joshin is bringing it out into the open!
Sales Lead, California
Safe and secure.
Connect with a Joshin Advocate, and they'll help your employees every step of the way. Our caregivers and specialists are thoroughly vetted before joining our network — at no additional cost to you.
Background Check Required
Interview Required
Experience Minimums
Ongoing Education and Training
4.9/5 Star rating
Request a demo.
Learn how Joshin can help you take care of your company by making care and wellbeing accessible to everyone. Fill out this form to connect with us.