Flexible work for the shape of your life.
Joshin connects specialists to families and individuals with disabilities, neurodivergence, and other health conditions. Our dedicated service and technology make the process of connecting to new clients, getting booked, and paid easy and stress-free.
Join our care network.
Build your business.
Joshin connects you with new clients, so you can focus on what you do best. Get booked by Joshin members and increase your business profile.
Create your schedule.
Work that fits your life. Free of the cubicle and 9-to-5 work life, you'll work when and where you're most comfortable – virtually, in-home, or in-office.
Get paid to make a difference.
Set your hourly rate and get paid securely through Stripe, all while making a positive impact.
This app is so easy to use and a great way to connect with new clients. I love the Care Binder and being able to see what care is needed since every individual is different. Support has been really accessible and reliable!
— Kjerstin, Minneapolis
Joshin is a wonderful way for families to connect with the perfect care provider. I have been on Joshin since they first started in Chicago and I couldn't be happier. The app is easy to use and I've had some amazing bookings with members! The entire team is very supportive and cares about each person and caregiver they work with. I would highly recommend Joshin!
— Alison, Chicago
I have been a care provider on Joshin for several months now and it is amazing. The convenience and quality are unmatched. The Joshin team is always super kind and willing to answer all questions.
— Ricarda, Minneapolis
​​We need people like you.
Joshin takes pride in the diversity of specialists we have in our disability care network.
Art Therapists
Music Therapists
Dance & Movement Therapists
IEP Specialists
Drama Therapists
Adaptive Trainers
Occupational Therapists
Physical Therapists
Speech Therapists
and more!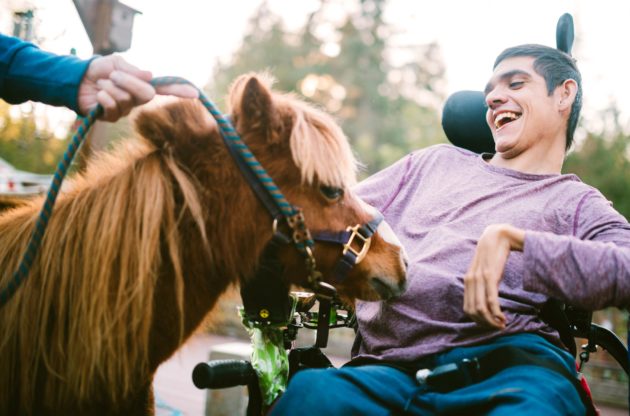 Put your compassion and talent to work.
Get Approved
Sign up, schedule an interview, pass our safety check, and get approved as a Joshin specialist.
Create Your Profile
Upload a photo, write a bio, and add in your experience, certifications, and more.
Connect with Members
Connect with new clients, get booked, and start getting paid.
Common Questions
What are the requirements for becoming a specialist on Joshin?
To become an approved specialist on the Joshin platform, you must:
Be at least 18 years old.
Have a High School Diploma or GED.
Own a smartphone (Android or iPhone) with a data plan.
Have at least 6 months of experience.
Be able to pass a background check.
When approving specialists on Joshin, we also take into account education, professional experience, and current platform need.
How do I get paid on Joshin?
As a care provider, you get paid securely through your Stripe account. This can be set up under "Payment Settings" on your account. After you complete your booking with a member, you are paid within 3-5 business days through your Stripe account. Provider earnings are not taxed through Joshin. Providers who have earned $600 or more through their Joshin Stripe account will receive a 1099 tax document from Stripe indicating Joshin earnings after January 31 for the previous year.
Can I be hired by more than one individual or family on the Joshin platform?
Yes, you can work with multiple members on Joshin. Keep the availability section in your profile up-to-date, and you can be hired by as many members as you would like to take on.
If I am licensed in one state, how can I practice remotely in other states?
We do not regulate your business but are here to give you a platform to connect to new clients looking for services such as yours. Many professional practices have COMPACTS that allow them to practice across state lines, such as OT, PT, and psychologists.